Horseback Riding Adventures Await You at Our Ranch
All rides are by Reservation Only, so please call ahead. SAME DAY reservations possible. To inquire about horse trail riding, pony rides, birthday party venues, horseback riding vacations, or horse riding lessons please call (580) 309-0135.
​​Guided Trail Rides On Our Horses
Age requirement 7 years old; Weight limit 250 lbs (please call). Must be physically able to mount a horse; instruction is given. Want a longer ride, ask and we can customize it!
1 hour       $40 per person
1 ½ hour   $50 per person
2 Hour      $60 per person
Tack & Groom add $15 to your ride​
Learn to groom and tack the horse you will be riding! Adds 30 minutes.​
Advanced Ride $60 per person
A little over an hour ride at a quicker pace. Trotting and galloping in spots if all riders are comfortable. Wranglers are trained to look for a rider's experience level during the ride so the speed is at wrangler's discretion for safety. Maximum of 4 riders for this ride.
Lunch/Dinner Horseback Rides
See our options under Meals below.
Ranch Fee $5/day, unlimited use of trails/ riding areas. All horses must have current negative coggins papers. Ask about a wrangler to guide you on a ride!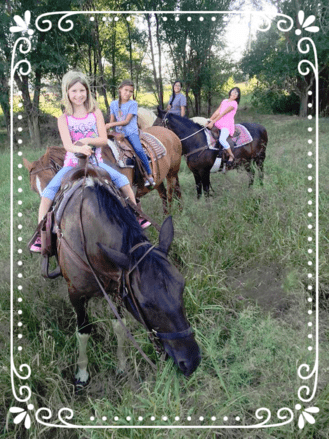 For Ages 2-7 years old. You lead horse for 10 minutes in the barnyard.
Hay Ride - Tractor or Truck Pulled
15 minutes $3 per person
30 minutes $5 per person
$40 per person, per lesson
Lesson are 1 hour each.
Sweetheart Ride - Engagement Ride - Customize a Ride
2 hour experience. Spend 1.5 hours in the saddle plus a 30 minute private picnic. The wrangler will leave you alone to enjoy snacks and sparkling juice while you overlook camp. Warm up on the comfy bench complete with fire pit and enjoy the wildlife and views of the South Canadian River Valley before the wrangler returns to finish your ride. $175 per couple.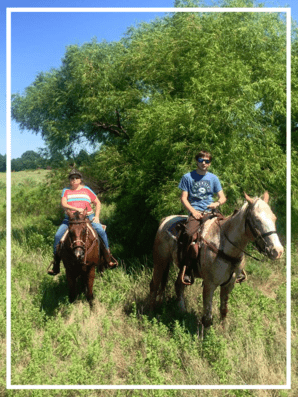 Add a splash of flavor to the afternoon or evening ride of your choice & let us cook for you on the trail a fare any cowhand would relish; ranch beans, corn on the cob, fried taters & onion and a longhorn steak that will melt in your mouth and canned peaches, of course, for dessert (or other old fashioned dessert). Some deviation in menu may occur as you never know what JoMama will cook up but it's sure to satisfy the tastebuds!
We can customize your meal and ride so if you don't see one that fits you, call, email, or message us on Facebook and see if we can make it happen!
Meal rides add about 30 minutes to your ride. Ex. 3 hour ride = 3 hours of actual saddle time with 30-45 minute meal time. 
Add $10 and 20-30 minutes to the ride of your choice.
​Pack your own lunch and we will haul it in the saddlebags stopping along the way to eat.
- or -
Let us pack your lunch as we meet JoMama at camp, ranch matriarch, along the way for a lunch stop. JoMama cooks the old fashioned way just like grandma!
1 hour $90
1 1/2 hour $100
2 hour $110
3 hour $160
Longhorn steak, wood fired fried potatoes, cast iron beans, old fashioned dessert. For riders 7-12 years old, take $5 off.
All beef is from our own Natural Grass Fed Cattle!
Swiss or Smothered Steak Trail Rides
Everyone in your party must choose same steak.
1 hour $82
1 1/2 Hour $92
2 Hour $102
Choice of steak, wood fired fried potatoes, cast iron beans, old fashioned dessert. For riders 7-12 years old, take $5 off. 
Hamburger Dinner Trail Rides
1 hour $75
1 1/2 hour $85
2 hour $95
3 hour $145
Hamburgers, cast iron beans, potato chips, light dessert. For riders 7-12 years old, take $5 off. 
FOR THE KIDS! Hamburgers or hot dogs can be added to any other meal choice.
Preparing for Your Trail Ride
We do most of the preparing for you — getting your horse ready, the saddle fit properly, etc. — but there are some things you can do to make your ride all the better!
The more comfortable you are, the more your horse can feel it, and the more likely you'll both have a fantastic time. Check the weather and think in layers, sunscreen, a hat, and a bottle of water!
Always start with a decent pair of socks! Boots with a slight heel are the best for riding, (like a cowboy boot or riding boots) however, tennis shoes are sufficient. Stay away from big bulky hiking-type boots, these tend to get caught up in the stirrups.
Long pants! Jeans or riding tights work perfectly. Shorts are a poor choice as your bare skin may rub the saddle.
Dress for the weather. If it's sunny, wear summer shirts (and lots of sunscreen). In the colder months, bring a jacket or coat. We can strap them right to the saddle for you!
Bring some water or something to keep yourself hydrated. Even if it's a short ride, you'll want to take a drink before we head out on the trail. The best way to avoid altitude issues is to stay hydrated.
Sunscreen, sunglasses (a strap for these if you have one is a great idea), gloves (not necessary, but nice), a granola bar or snack to have after your ride or during the longer rides. Sometimes the mosquitoes can get annoying, so bring bug spray or wear long sleeves, especially in the Spring!
When you make your reservation, just ask us any questions you have and we'll get you set up and ready to ride!
​Please remember that gratuities are not included in your horseback ride price. It's customary to tip the Wranglers!
We expect people to keep their reservation, however, we do no expect people to ride in storms or if the weather is bad. Please call to find out if we may cancel the ride. No charges will be made if we cancel a ride or lesson.
A credit card is required to hold your reservation. Card will not be charged until after your ride at which time you can choose to pay with cash or credit card.
Cancellation Policy - 24 Hour notice must be made for a ride cancellation for all rides. $15 per person will be charged if meal rides are not cancelled 24 hours ahead of your scheduled time. $10 per person will be charged for regular trail rides.
No Call, No Shows, and Back Outs of any ride or lesson will be charged full price for each rider in your party. If your party arrives for your ride and someone chooses not to ride is a back out.
$5 a night. Primitive means there is no water or electric hook ups. Water will need to be hauled in for use at camp. Water troughs, a pond and creek are available along parts of the property for livestock during your ride.
Port-a-potty available in certain areas only. No showers at this time.
Here at Old Caldwell Trail Stables, we want folks to get the feel of what life was like living on the trail. Pioneers didn't have manicured campsites, parks, and lawns to camp out and stay the night on. They threw up their tents and rested their livestock on whatever terrain was around them.
Come step back into a simpler time with us!
Your visit at our ranch is only limited by the imagination! Ask us what you are looking for in a retreat and we may have it to offer! Lots more options not listed so give us a call!
Camping with Tent, RV or Horse Trailer
All sites are Primitive - No water, electric, or sewer hookups.
Campsite $5 per night
Campsite & horse pen $15 per night
You may provide your own pen or tie line at no charge.​
*Dinner, breakfast or lunch may be added to any amenity at additional cost when available.
Whether you ride up an appetite, camp wears you out, or you're just passing through, Cookie JoLana (JoMamma) reckons she has
a meal just for you and yours!
Campfire meals can accompany any horseback trail ride, camp or day use here at the ranch. All meals come with, water or tea. Deviations may be made in advance, choice of meal for your group must be chosen a day prior to your reservation.
Your visit at our ranch is only limited by the imagination! Ask us what you are looking for in a retreat and we may have it to offer! Give us a call! (580) 309-0135.